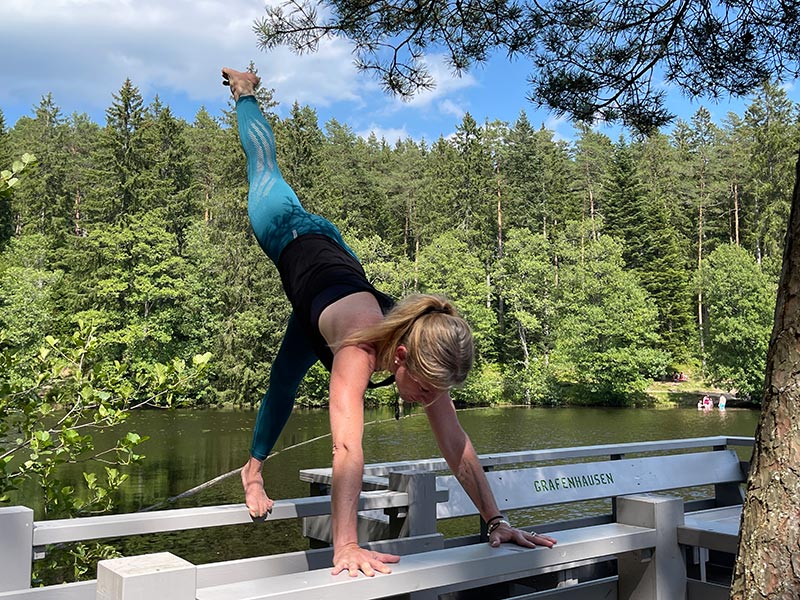 YogaBase – What is it, for whom, how, why?
Yoga is for everyone. In very simple terms it means connecting the body with the mind/spirit. Through specific physical movements and breathing, you can find the balance between mind and spirit. We do asanas that have a physical as well as a mental purpose. Psychosomatic is treated somatopsychically.
Yoga is for everyone. No matter how young, how old, how fit, how agile. Yoga is for couch potatoes. Yoga is for top athletes.
Yoga is for you. Yoga is about you. You get to know your body. You feel what is good for it and what is not. You will move your body step by step out of its comfort zone. Your mind becomes calm and focused. You will reach the goal you set for yourself. And you will have FUN doing it!
The Style
Inside Yoga a modern, anatomically correct yoga, underpinned by music. The focus of attention lies in the correct execution and adjustment of the movements. Music is chosen according to the theme and sequencing of the class. The music is meant to make you grow out of your comfort zone.
Setup of a class
15 minutes before the class starts you are welcomed  in the studio. Music is playing. You may find a place and spread out your mat, you may be given instructions on where to place yourself. Please bring a large towel. It can be folded up and used as a cushion, it can be used to take the weight off your knees, it can be used to wipe off sweat, it can be used to cover yourself at the end of the class – it is a multitool! A water bottle is certainly not out of place, sometimes even very welcome.
The lesson begins so: You will be welcomed, and the theme of the lesson introduced. After the warm up you will be taken in  depth of the different asanas (exercises), building them up, correcting, testing and improving them. Repetition takes place. The asanas are then strung together, without much correction, to appropriate breathing techniques. Music is a constant companion. At the end the class will rock a sequence of the different asanas, a vinyasa flow. Finally we cool down slowly with appropriate asanas and relax.
Then we say goodbye and look forward to seeing you again. A chat and questions are of course always welcome.